Work Philosophy
Working at EMC is bringing together your passion with imagination to help empower the country. The motivating and challenging assignments acquired by us, coupled with unmatched leadership and opportunities to grow at a rapid pace ensure a sense of professional fulfillment for every team member.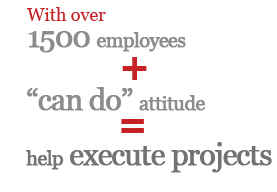 Additionally, the competitive compensation and training through core technical, management, leadership and behavioral development programs enables our employees to unleash their full potential.
With over 1500 employees we have a healthy mix of engineers, finance professionals and general management professionals we recognize that our ambitious plans to fortify our position as industry leaders in the power industry can only be realized through the efforts of a highly skilled, competent and motivated workforce. Our people are our greatest strength because they shape our future through their conviction and "can do" attitude to successfully take up and execute any project irrespective of its difficulty and complexity to the expectation of our clients and stake holders.
At EMC we offer our employees a truly global career in project execution and management. As an organization our experience ranges across different terrains and cultures, each necessitating an extraordinary approach and unique execution technique. Our work philosophy is performance driven so as to attract talent and develop and jointly rewarding, long-term partnerships with associates who have demonstrated abilities and proven capabilities.