Execution Capabilities
We promote a culture that delivers superior services across the value chain for our EPC customers. Our integrated and innovative approach ensures that all projects undertaken by us are always on track, on time and within budget.
We apply proven, robust and reliable solutions to manage and deliver large, complex projects across all voltage platforms and in challenging climatic and topographic conditions that include deserts, snowfields, seas, mountainous regions and thick forests as well as in exigent socio-political conditions including war-torn regions.
We are one of the few players across the world capable of helicopter based tower erection and stringing.
Our experience over the last five decades reveals an unparalleled record of executing both large and small projects, including many industry firsts.
Some of our notable projects include: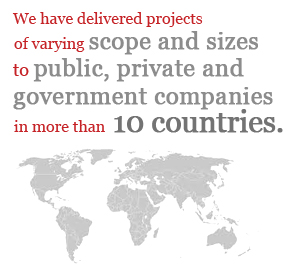 765 kV S/C Seoni – Mewad Transmission Line which is one of the first 765 kV lines to be completed in India
400 kV D/C RAPP 5&6 – Kankroli Transmission Line. The line passes through challenging terrain in Rajasthan
400 kV D/C line from Kishenpur to Kishtwar in J&K. The line passes through Pir Panjal range (mountain terrain)
132 kV transmission line in deserts of Dubai
The 1st 132 kV line in the Snow Zone above 9000 ft in J&K
EMC Limited was the first Company in India to be awarded +500 kV HVDC Transmission Line from Rihand to Fatehpur in Uttar Pradesh covering over 331 km
Completed lines in Militant infested areas of Manipur & Nagaland
We adopt state-of-the-art systems and specifications for the management and control of EPC and commissioning of process and facilities worldwide.